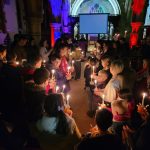 Last Sunday (4th), All Saints welcomed well over a hundred people, including 50 children, to our Christingle Service. Led by the Licenced Lay Minister, Claire Wilks and helped by Alison Andrews, the fifty minute service was a mixture of well-known worship songs sung by all, child friendly prayers and the making of 45 Christingles. Each Christingle is made up of an orange representing the world, with a red ribbon around it to represent God's love for the whole world and Jesus's sacrifice. A candle on the top stands for the light Christ brings and various cocktail sticks with sweets on represent the goodness of the world we all share. Once the Christingles had been made, with a little help from Mums, Dads, Grandparents and other relatives and carers all the children stood in two lines and the candles were lit (with a couple of nervous wardens standing by with fire blankets, buckets of water etc.). It made for a magical occasion and was a great start to the Christmas season.
Reverend Nick gave the final blessing and reminded all of the many people for whom life is a challenge and who have need of the Food Bank run by the Church.
The upcoming services at All Saints are
Holy Communion (11th at 10:30),
Carols in the Churchyard (18th at 6 p.m. – inside if the weather is poor),
Crib Service on Saturday 24th at 3 p.m. and
Christmas Day Communion at 9:30.
See the Calender for more events